Virtual Tour – Atlanta Swim Academy
Atlanta Swim Academy now has their own virtual tour and a new Blue Line on Google Street View!
ASA is Atlanta's premier swim school and aquatic center.  Located in the heart of the East Cobb community providing year-round classes that teach swimmers from a young age how to enjoy water safely since 1985 with three indoor heated pools.
The virtual tour covers the main entrance, welcome area, retail store, all three swimming pools, two class rooms, and locker room accommodations.
The new Street View Blue Line was recorded through the parking lot and wraps around the north, east, and south sides of the swim facility.
Explore the Virtual Tour
The virtual tour has been added to the Google My Business listing for Atlanta Swim Academy. 
The photo spheres provide a boost to the Search Engine Optimization and will appear in Google Search results, Google Maps, and Street View.
Atlanta Swim Academy
Marietta, Georgia
[gdoc key="https://docs.google.com/spreadsheets/d/1lwhcW6y8YTIJQlyHfbxnORdMXwfxzFiNZsAzlTNDLPs/edit?usp=sharing" query="select E limit 1 offset 0″ class="no-datatables" strip="1″ ]
Atlanta Swim Academy has inserted the virtual tour directly into their official website for visitors to explore.  Inserting a tour into a WordPress or Joomla website page is as easy as pasting a small section of text.  No coding required!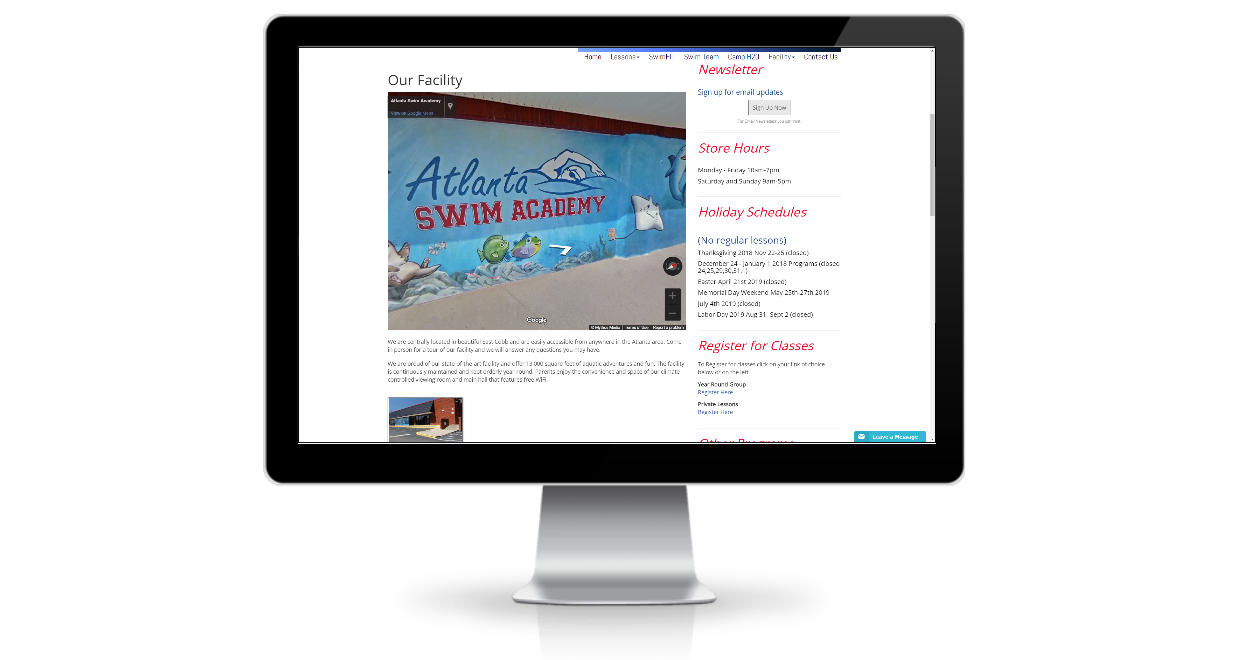 Street View Blue Line
The closest Street View Blue Line (SVBL) to the Atlanta Swim Academy runs along a rear side-road behind the facility and did not even enter the parking lot.  The image recording was last captured in July 2008 and extremely low resolution.
We created an entirely new SVBL connecting Oliver Palms Walk, through the parking lot at Atlanta Swim Academy, and around the entire building. 
Drag the slider from right-to-left below to see the updated display on Google Maps.
The Atlanta Swim Academy now has extremely high visibility on Google Maps, which increases visitor views and ultimately new students walking in the front door. 
Mythos Media is officially certified by Google as a trusted professional by exceeding Google's standards of high quality digital content contributions.
Ready to Get Started?
Request a free consultation today to discuss your project!