Digital signage is today's gold standard to captivating your target audience, elevating the customer experience, and as a result: driving greater sales.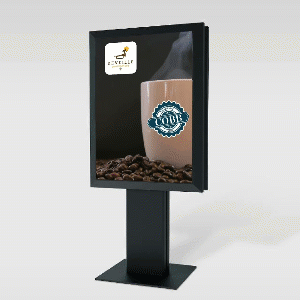 Digital Signage: Defined
Digital signage is exactly what it sounds like — signage displayed on a digital screen.  Instead of traditional print advertisements, menus, posters, or signs; the digital video and images (the content) are displayed on one or more high-definition screens.
The content is displayed to the screen from a custom built media player in the same way a cable tv box is used at home.  The media player stores the content that is managed by software which schedules when and how the content is displayed on the screens.
Digital Solutions for Every Industry
One of the best things about digital signage is how incredibly versatile it really is.  Below are just a few of the many, many possibilities for businesses in some of the most popular industries:
Restaurant.  Use promo boards near the entrance to show off your daily specials or menu.  Use digital menu boards to display menu offerings along with nutritional information, promote seasonal items and community events.  Use digital signage in the dining areas to promote your business and entertain your guests.
Brewery. Use digital signage to showcase your amazing beverages in high definition, promote upcoming events, and detail your brewing process.
Retail. Display welcome boards near the entrance and on the floor to promote your latest offerings and giving your space a unique vibe.
Antique Mall.  Display a welcome board to showcase your store map with animations, special booth vendor locations, and special sales events.
Automotive. Both dealerships and repair centers can use digital signage to promote their offerings and enhance the feel of their space.
Healthcare. Employ digital signage to enhance the waiting room experience and relieve patient anxiety. You can display patient queues, health tips, or integrate with TV to make the time fly by.
​Senior Care.  Display digital signage around your facilities to keep residents informed about activities, maps of the facility, dining menus, special events, birthdays, staff announcements, and more.
Church.  Showcase your welcome messages, maps of your property, events calendar, fundraisers, donor recognition, birthdays, memorials, and more.
Veterinary Clinic.  Keep your patient's caretakers engaged while they wait with helpful pet health information, vaccination recommendations, local adoption events, and more.
Bank/Financial. Use digital promo boards to promote services and special events, and educate customers with financial tips.

Internal Communications. Provide company-wide communications, such as: safety tips, best practices, employee of the month announcements, emergency procedures, and much more.
Digital signage is a crystal-clear connection between the business and customer.  You can easily leverage the natural lure of digital signage to connect with your target audience and communicate your message.
Customers have more options than ever before – and considering the abundance of social media outlets, more ways to express their level of satisfaction with your business.  Tech-savvy consumers demand a more interactive and immersive experience. Digital Signage brings those elements in spades, and it is essential to your business if you want to make a lasting impression on your customers.
Where do I begin?
Many businesses that are new to digital signage attempt to implement a DIY signage system, with less than desirable results.  DIY Digital Signage can be very time-consuming to create, difficult to manage, and often turns out to be extremely unreliable.
When it comes to customer experience, there isn't much that's more distracting than a black screen or outdated information, and if you think you can cut corners with a basic PowerPoint slideshow, think again – your customers will see right through it – the quality of the visual experience simply isn't there.
Instead, start a conversation with us, your local Digital Signage experts.  We will show you how to do it right the first time and design a digital signage solution that exceeds your goals and fits your budget.  We are your local technology partners.  When you speak to us, you are dealing with the expert designers that are building your digital solutions.  We are not a franchise and we do not outsource.  We never force clients into unbreakable annual contracts.  Grow your marketing solution at your own pace.
Digital Signage Marketing
Learn more about our digital signage content, features, host partnerships, advertising opportunities, and how to get started.
Have any questions or comments?  Check our Digital Signage FAQ or send us a message!